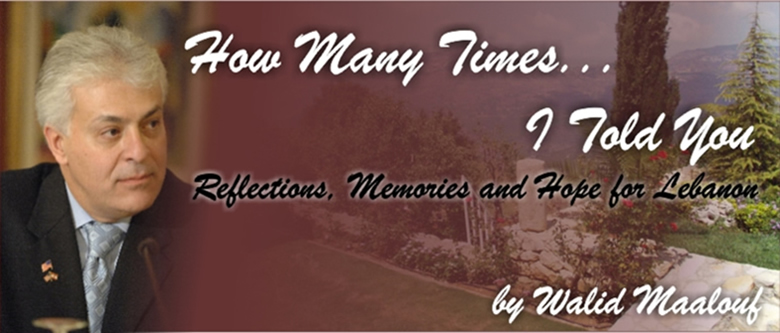 ---
---
The Book is available now Online Click to order :
---

Book review

Media
Panel discussions
Minister Counselor James Bullock
FIAP Center - Paris
Tuesday, May 15, 2007

Dean Mouhamad Baalbacky
Naqabet Al-Sahafeh - Beirut
Tuesday, November 18, 2008 (Arabic)

Mr. Wael Kheir
Naqabet Al-Sahafeh - Beirut
Tuesday, November 18, 2008

Poet Henri Zougheib
Naqabet Al-Sahafeh - Beirut
Tuesday, November 18, 2008
Reader's reaction
"I still enjoy your book, especially the article on page 43 "Divided organizations in the Diaspora". I believe that you are absolutely correct in your description. It also applies to us American Copts. It seems that we have a dominant gene which is expressed heavily in every Middle Easterner. It is either this offensive genetic material which transmits anti-unity or an epidemic among us. The good news for the Copts is that it is not found only in our community."

Dr. Ehab El-Khouly, Response Genetics Inc, Los Angeles, CA - December 30, 2007
"How Many Times... I Told you tells the stories of a young ambitious Lebanese American and his ongoing struggle to regain the old good days of Lebanon. While reading it you cannot but bow before this pure patriotism. Walid Maalouf is indeed a modern day Phoenician sailor in the Americas."

Mazen H. Abboud, Journalist, Beirut, Lebanon - December 6, 2007
"What you are doing is a great hope for Lebanon, I am reading your book, I saw through the words the great spirit of you, I smell Lebanon fragrance and I felt the breeze of Kadisha valley in your writing."

Youssef Abdelsamad, Dean of the New Pen League, New York - November 29, 2007
"I have read your book it was excellent, I wish to every Lebanese to read it."

Dr. Albert Helou, Virginia Commonwealth University - August 18, 2007
"May your energy and endeavors rub off on every man, woman and child you meet and may your positive outlook help our Motherland emancipate itself from the nightmare that has befallen upon its Cedars' roots! Lebanon needs many, many Walid Maaloufs to heal its wounds, shake off its burdens, evolve and move forward to a bright and, God willing, peaceful future that its people very much deserve and often enough have been deprived of. Keep up your benevolent work and God bless you."

Jay Bassila, Montreal, Canada - June 1, 2007
"Thank you for such a wonderful book, you touched my heart, you expressed my thoughts and my feelings, you made me cry all the way coming back to Toronto from Montreal, you brought all my feelings back to life, I was trying really hard to forget my very sad teenage years in my beloved hometown Daher El Migara but you made me realize that they stole my past. I will never let them steal my future and my children's future. Yes ....the children of my Lebanon have to work together and unite to save Lebanon."

Hanan Dagher, Toronto - Canada - May 9, 2007
"A fascinating book that chronicles significant landmarks in the successful journey of a Lebanese emigrant to America, from a foreign student who had escaped the miseries that had befallen his homeland to an able diplomat representing his adopted country and a warrior for freedom and democracy. An "Only in America" real-life story and a must-read for every American of Lebanese descent. "

Adib Farha, Wichita, Kansas - April 28, 2007
"Again and again, your book is a shining light at the end of our long black tunnel. We are proud to be Lebanese and to have Walid Maalouf as one of our best representatives. "

Dal Hitti, President, Koudourat Association, Beirut – Lebanon – April 20, 2007
---
English/Arabic one edition
Published by the Walid Maalouf Foundation

Foreword by Dr. Wadi' D. Haddad
Introduction of the book by May A. Rihany and Dr. Marius Deeb

Price: US$ 25 + shipping
Quality soft cover 232 pages
Size: 6 x 9 inch or 16 x 23 cm
Pictures: colored
---
| | | |
| --- | --- | --- |
| | | |
---
The Middle East needs a project for democracy, established in its own midst, by its own cultures and aimed at its own future. Therefore, the natural launching pad for such a project has to be situated in the region. Where? There is no better place for it than Lebanon, which had produced democratic elections for half a century before war ravaged its institutions between 1975 and 2007. Today, Lebanon has been propelled to the forefront of the Middle East dilemma.

All the while, deeply determined to restore their democracy, the Lebanese at home and in the Diaspora never seem to give in. This compilation of personal and cultural observations is a tribute to their resiliency in the face of war and outside control. The democratic spirit, as evidenced by the actions of one shows that there is always hope for Lebanon.
---
Dr. Wadi' D. Haddad , former Chief Advisor to the President of Lebanon for National Affairs wrote in the foreword: "Mr. Maalouf's book is… a genuine and unadulterated record of the odyssey of one Lebanese American – his thoughts, emotions and actions made public through published articles and speeches. He shares with us his frustrations, hopes, calls to action, and finally the fulfillment of success."
Professor Marius Deeb of the School of Advanced International Studies at John Hopkins University said: "Mr. Walid Maalouf has written a book which documents his untiring struggle for the rebirth of Lebanon. The book comprises nostalgic essays on the wonders of living in the mountains of Lebanon as well as speeches and interviews that cover the last two decades. Mr. Walid Maalouf's role at the United Nations and his input into the momentous and historic UN Security Council Resolution 1559, which has set the path for the liberation of Lebanon from Syrian domination, was of utmost importance. All Lebanese both at home and abroad would enjoy reading this invaluable book."
May A. Rihani, Senior Vice-President of the Academy for Educational Development said: "Mr. Maalouf's book is a testimony of how Lebanese Americans who are proud of being American citizens and grateful for the opportunities that the United States offers, still have Lebanon on their minds and in their hearts every moment of their lives. This book is about positive political activism -- an activism that is inclusive, one that rejects an "either/or" approach to national loyalty and embraces a "both/and" outlook. Mr. Maalouf's experience is one of an immigrant who is deeply loyal to America and who champions the values and opportunities that he has found in his new land and who wishes to see these values protected and nurtured in the land of his origin. Mr. Maalouf illustrates how the U.S. empowered him to fight for a noble cause: the sovereignty of Lebanon and the affirmation of its democratic heritage. This book is also about the unique experience of a young Lebanese man, from a small but beautiful mountain village in Lebanon, who rises to become a political player in the political hallways of Washington, DC."