---
| | |
| --- | --- |
| The Book is available now Online Click to order : | |
---
---
English edition
Arabic edition
Published by Entire East
Author Stephen Kaufman
Translated to Arabic Dr. Najwa Nasr
Price US$ 25 + shipping
Price US$ 25 + shipping
Pictures: colored
Cover: soft with flaps
Size: 6 x 9 inch or 16 x 23 cm
Foreword by John Negroponte
Acclaims by Andrew Natsios, J. Scott Carpenter, Thomas Melady, Marius Deeb and Sichan Siv
---
Presentation by Entire East Publishing House
It is true that United Nations Security Council Resolution 1559, which practically put an end to the Syrian hegemony over Lebanon, was the result of an international consensus based on an American - French agreement reached in June 2004.
Yet, the truth remains that this Resolution could not have been achieved if it weren't for the joint efforts of many activists among the Lebanese immigrants abroad, as well as the diligence of Walid Maalouf who paved the way for the resolution and persistently followed up on it in the hallways of the United States Permanent Delegation to the United Nations. He also received full cooperation and support from a Latin diplomat of Lebanese decent, whose identity cannot be disclosed. It was ironic that the Lebanese immigrants abroad were struggling for Lebanon's sovereignty while the Lebanese official diplomacy was countering their efforts and exerting great pressure in favor of the Syrian hegemony over the Land of the Cedars.
In this book, author and reporter Stephen Kaufman explores diplomatic secrets through interviews with veteran diplomats, like Richard Murphy who played a major role at the peak of the Lebanese crisis in the years 1976 and 1988, and sheds light on information now published for the first time…
---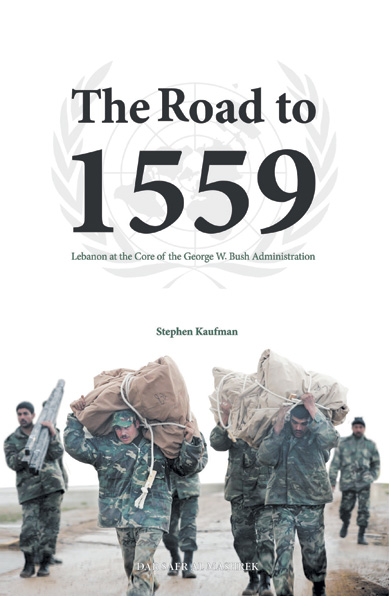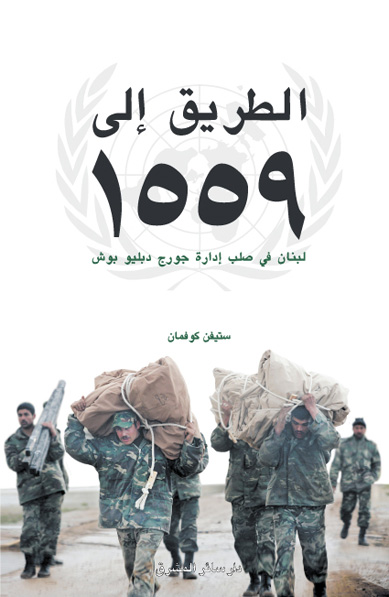 ---
John Negroponte, Former U.S. Deputy Secretary of State
concluded his foreword saying:" When it came to Lebanon, Walid Maalouf did not suffer from this failure of imagination – and hope. Starting with the fundamental notion that Lebanon should be fully independent and free of outside interference, his ideas, initiative and persistence made Resolution 1559 possible. Today, though many challenges and difficulties persist, Lebanon is a better place. Walid, one of our "Citizen Diplomats," can be very proud of his contribution to this course of events."
Andrew Natsios, Former Administrator of USAID wrote: "Stephen Kaufman has written a fascinating account of the shift of US government policy towards Lebanon, what caused it, who led it, and why the initial outcome met so much resistance in the region. The central figure in the drama, Walid Maalouf, embodies in his life experience and ideals the ambitions of so many Lebanese-Americans to free their homeland from the poisonous politics of the Middle East and achieve a free and democratic Lebanon."
J. Scott Carpenter, Former U.S. Deputy Assistant Secretary of State
wrote: "This story of how one Lebanese-American's life intersects with the most promising moment for Lebanon's recent history is both powerful and ultimately heartbreaking. The promise of Resolution 1559 and Walid Maalouf's efforts to introduce a new way of politics in Lebanon are ultimately both thwarted. But Walid's irrepressible optimism about the future of Lebanon comes through on every page."
Thomas P. Melady, Former U.S. Ambassador to the Vatican wrote: "There is nothing in books on contemporary political matters that matches the personal experience of an activist who knows the language and the culture of the area. Walid Maalouf is that person; his thorough knowledge of his Lebanese homeland and of the history of its relationships with Syria and Israel. It is an "on the spot" book about an immigrant who is now a highly respected U.S. Diplomat. The book is a rapidly moving account. I recommend it for all who have an interest in this historical part of the world."
Professor Marius Deeb, John Hopkins University
wrote: "Mr. Stephen Kaufman has written a book of paramount importance because it narrates what had preceded and had eventually resulted in the passage of the United Nations Security Council Resolution 1559. Occurring in the same period as the "Syria Accountability and Lebanese Sovereignty and Restoration Act of 2003," you learn a great deal in this book about what was behind American volte-face towards Syria and what set the stage for the peaceful and democratic 2005 Cedar Revolution. Based on his short but fruitful tenure at the U.S. Mission to the United Nations, Mr. Walid Maalouf shows how he had gradually sought a policy, which reaffirmed U.S. commitments for a free and a democratic Lebanon."
Sichan Siv, Former U.S. Ambassador to the United Nations wrote: "A must read for anybody who is interested in the Middle East, especially Lebanon."
---
Book review

Media
Mr. Halim N. Nasr, Attorney at Law - Beirut, Lebanon - September 30, 2011 (Arabic)

"I read The Road to 1559 and I am inspired by your contribution to the liberation of Lebanon and take pride in your accomplishments." Mr. Tony BouSamra, Director, Business Systems, Saint Louis, MO - November 2, 2011

"I have very much enjoyed reading the book. My mother in law read the Arabic translation and loved it, she is a fan of yours since reading How Many Times... I Told You. I was a bit surprised and saddened by the ending of the book". Mr. Ghassan Saab, CEO Sorensen Gross Construction, Flint, MI - December 4, 2011

" The Road to 1559 is an inspiration for Lebanon and the Lebanese people everywhere. It shows the true spirit of a real Lebanese who believes that Lebanon will always prevail. It proves once again that the United States is the land of greatness and opportunity. The Road to 1559 details how a Lebanese immigrant rose to the top of the order and influenced events in the international arena. It can only happens in America." Mr. Robert Yrani, President Fleeta Material Things, San Francisco, CA - December 12, 2011

"I've just finished reading The Road to 1559 which I enjoyed very much. Several things were of good interest to me including your honesty in documenting the facts mentioned and I learned a lot about the way resolutions get cooked in the UN or US congress. I realized how good were for Lebanon President George W. Bush and his administration, Ambassador John Negroponte, Elliott Abrams, Congressman Ray Lahoud and others." Mr. Nazir Saad, President of NAS Construction, Beirut, Lebanon - December 13, 2011

"The Road to 1559 is a great book and reminded me of Bashir Gemayel and the days of our youth. Time where we had real hope in an independent and sovereign country." Mr. Lyan Khoury, Ashrafieh, Lebanon - December 15, 2011

"I read The Road to 1559 and I would like to tell you that the Lebanese Diaspora recognized all your effort and hard work, and we truly believed that your service to your mother country Lebanon will be remembered forever." Dr. Nick Khahwaji, World Secretary General of the World Lebanese Cultural Union, Vancouver, Canada - January 5, 2012

"For anyone interested in Syria's withdrawal from Lebanon and the pivotal role that Walid Maalouf played, then you must read this book. In what was going to be at most a ceremonial role at the United Nations, Walid turned his job duty on its head and became the Raoul Wallenberg of Lebanon, as he helped free Lebanon and Lebanese from the Syrian yoke that had choked Lebanon for far too long." Charles Malouf Samaha, Esq. Saint Petersburg, FL - January 12, 2012

"In 2004, Lebanon could not have been more fortunate, as all the right elements and opportunities merged together to liberate it from the jaws of the dragon. The Lebanese people had been struggling for years to regain their freedom. Walid Maalouf was the right person in the right place who delivered the message at the right time. Walid sacrifices, perseverance and collective work with fellow Lebanese Americans, paved the way for the long awaited UNSCR 1559. This book, The Road to 1559 - Lebanon at the Core of the George W. Bush Administration, is a great document and testimony." Anise Garabet, World Lebanese Cultural Union, Former World President – January 12, 2011

"I thank Mr. Stephen Kaufman for writing an accurate account of the US policy change toward Lebanon. And thank you for bringing the true story of the making of UNSCR 1559 for all Lebanese in the Diaspora to read and appreciate." Sue Raphael, Paris, France - January 14, 2011

" I have learned a great deal about you and all I can say is kudos for your unwavering support for the Lebanese cause." Nader Moumneh, Toronto, Canada - March 3, 2012

"I have found your work [The Road to 1559] to be very impressive---so very personal, insightful, and comprehensive. Your accomplishment was Herculean and you have made the world a better place." Ambassador John Danilovich, former CEO of the Millennium Challenge Corporation - June 21, 2012


"The Road to 1559 captures for the historical record all the work that you and others in the Bush Administration did to promote a free and democratic Lebanon. It also shows how difficult the real work of policymaking and diplomacy can be, particularly up at the United Nations. In general, I found the book fair in how it represented those years." Kim R. Holmes, former Assistant Secretary of State for International Organization Affairs - July 11, 2012


"I have enjoyed the book [The Road to 1559]. Thanks for your efforts to help Lebanon retrieve its independence. All the best." Eric S. Edelman, former U.S. Under Secretary of Defense - August 6, 2012


"I took your book [The Road to 1559] with me as reading for a plane ride, and it is fascinating and very encouraging to see what one person can accomplish! " The Honorable Kerry Healey, former Massachusetts Lieutenant Governor - August 23, 2012


"Through this memoir Walid Maalouf has demonstrated that with hard work, perseverance and ingenuity an individual can make a difference." The Honorable Jeffrey Grieco, former USAID Assistant Administrator, Bureau for Legislative and Public Affairs - September 11, 2012

"I have just finished reading The Road to 1559. It helps me know you better. One wonders what keeps Lebanon alive? It is the love of its people. Its future is in God's hand and all enemies will fall apart. It is a great story, God bless you and your family. We love you and are proud to know you." Mr. Hanna Ayoub, Chairman, Hamra Construction Company, Beirut, Lebanon - November 19, 2012.


"I read The Road to 1559; my God you cannot imagine what impact it left on me. I cried and cried while reading it. You really gave me hope, we can always do something. You're an amazing person; I am offering this book to the people around me to discover you. Honestly, I have never heard of you before, even the book, I read it by mistake. God bless you". Marie-Therese Zahr, Montreal, Canada – July 13, 2013


I read The Road to 1559, it is an amazing book. God Bless you for doing more than a slue of politicians who could not do in over a century. Best Regards". George Aboujawde, Boca Raton, FL - May 5, 2015


"I have just finished reading the book The Road to 1559 I really enjoyed this reading which gave me better understanding of the working procedures at the UN and the US administration. I specially appreciated your strong, uncompromising belief in Lebanon. Lebanon today still need further efforts to rid itself from the Militias ruling class that dominate the political scene and hinder its progress. You should never give up, the future awaits people like you, devoted with high will power, A Neutral Lebanon is the solution, but it remains a dream today. With my very best." Ambassador Khalil Alkhalil, Beirut, Lebanon - August 3, 2015